Choice One Community Credit Union wants to reassure our members and the entire community that your deposits in credit unions are safe and insured. Federally chartered credit unions, including Choice One, are regulated by the National Credit Union Administration (NCUA) and insured by the National Credit Union Share Insurance Fund (NCUSIF), which is backed by the United States government. NCUSIF is similar to deposit insurance coverage provided by the Federal Deposit Insurance Corporation (FDIC).
Deposit Coverage Limits
The standard share insurance amount is $250,000 per share owner, per insured credit union, for each account ownership category. What does this mean? The NCUSIF provides all members of federally insured credit unions with $250,000 in coverage for single ownership accounts. These accounts include regular shares, share drafts (similar to checking), money market deposit accounts, share certificates, and IRAs. Members with account balances totaling $250,000 or less at the same insured credit union are fully insured.
Example
| | |
| --- | --- |
| Insured Account Category | Coverage Limit |
| Single Ownership Accounts (owned by one person | $250,000 per owner |
| Joint ownership accounts (owned by two or more persons) | $250,000 per co-owner |
| Traditional & Roth IRAs | $250,000 per owner |
| Education Savings Accounts (ESAs) | $250,000 per owner  |

Look for the NCUA-insured logo
If your credit union displays the NCUA-insured sign in Its branch locations and the logo on its marketing materials, you can rest assured that your deposits are protected. You can find the NCUA sign in all of our Choice One Community Credit Union locations, as well as on our website and on our materials.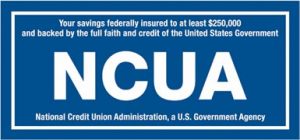 Avoid panic cash withdrawals 
We understand that the coronavirus pandemic is bringing with it a time of uncertainty to our community and to the entire world. This uncertainty may cause people to do things out of fear. We want to stress again that your deposits accounts in Choice One Community Credit Union are safe and insured. Once you withdraw your cash, it is no longer protected or insured. Large cash withdrawals may also mean a loss in the interest you could have been earning in products such as CDs and money market accounts. In addition, cash can be lost, stolen or even destroyed. If it is not insured, it cannot be replaced. We encourage you to only withdraw the cash you need and not to keep large amounts of cash on your person or hiding in your home. Use your Choice One credit and debit cards for making cashless purchases. Using your credit or debit card also requires less contact, which is safer for you right now.
If you want to learn more about the NCUA and how your deposits are insured, you can visit ncua.gov or call Choice One Community Credit Union.